How to use the Bhajan Sangrah PowerPoint guide
The following tutorial explains how to use the Bhajan Sangrah PowerPoint file. (At the bottom there are some helpful hints)
1. Open the BhajanSangrahv1.ppt file in PowerPoint. The guide assumes that you are using PowerPoint/Office 2007 or later. However you can open the Powerpoint and use it in PowerPoint/Office 2003.
2. You may see a security dialog, as seen below, when you initially open the PowerPoint file. Just click Options.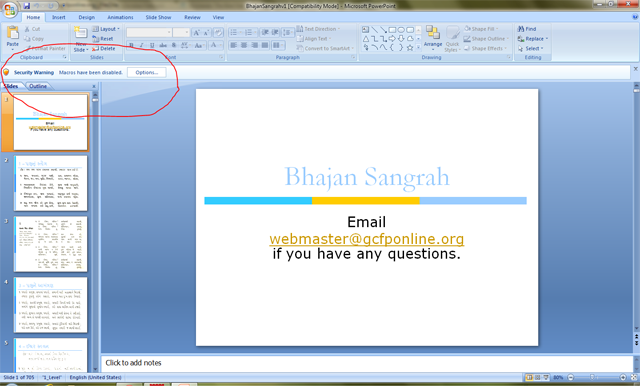 3. Then click on 'Enable this content' and click 'Ok' on the Security Alert window.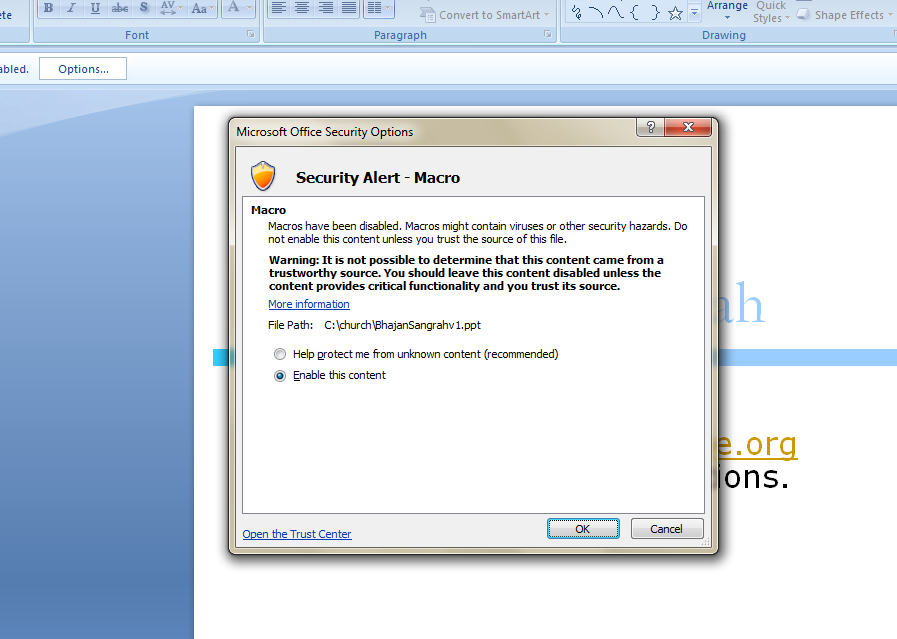 4. Now go the 'View' tab and then click on the 'Macros' button to open the Powerpoint Utility.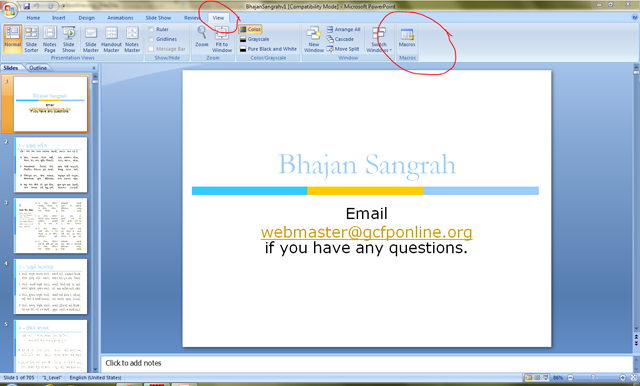 5. You should now see a new window with the title 'Macro' and have the 'ViewSong' macro already selected. If not, then select it and click on 'Run'.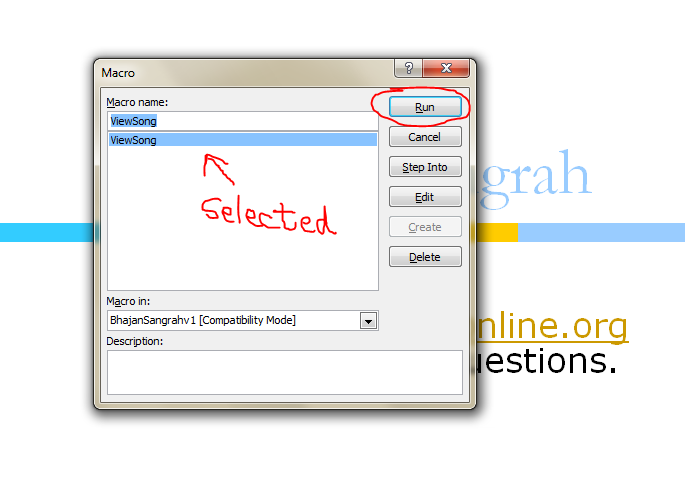 6. Now you should see the ViewSong macro running called 'PPT Utility | GCFP' running. You can select Gujarati or Hindi and then type in the corresponding Bhajan Sangrah song number and then click on 'View Song'.
* The macro is smart enough to display the song on an extended monitor/projector if the PowerPoint software has been setup to display onto that extended monitor/projector. * Else it will display the song onto the current screen.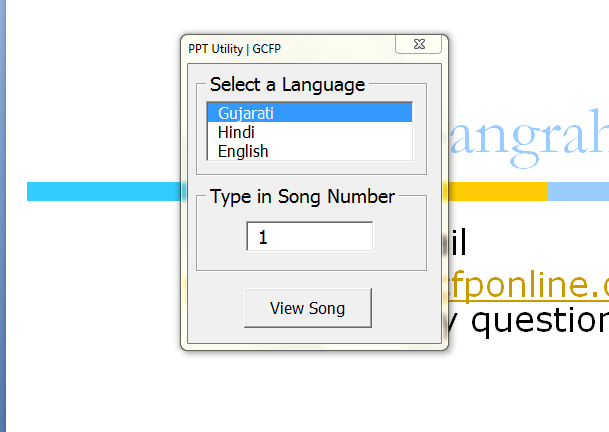 Few helpful hints :
Sometimes you might have more than two slides to a song. In that case you can just press the right arrow key on the keyboard and it will move the slide to the next slide of the song.
Press the 'ESC' key to cancel out of the presentation.
If you don't see or cant run the macro, the ViewSong utility, then you probably don't have security enabled as described in steps 1 and 2. So you might have to close PowerPoint and reopen it. If that doesn't work then contact a local IT person to assist you.
If you need assistance in running multiple monitors/projectors setup then I would strongly urge you to contact a local IT person to assist you.
Bhajan Sangrah v1.1 (PowerPoint file)
Bhajan Sangrah Powerpoint contains all of the Gujarati and Hindi Bhajan Sangrah songs that you would typically find in the Bhajan Sangrah. We have added a small macro/program inside the PowerPoint, that allows a user to quickly load the songs onto the projector screen.
We hope that the Bhajan Sangrah PowerPoint will help you and your church in worshiping the Lord better.
Download Below
BhajanSangrahv1_1.ppt (Large file ~ 155 MB)
If you have any questions or tips on how we can improve the PowerPoint presentation then please email us at webmaster@gcfponline.org. We would love to hear from you.
Revision Change Information
v1.1 (2/12/12) –

Updated algorithm to properly display correct song

v1 – Released to Public